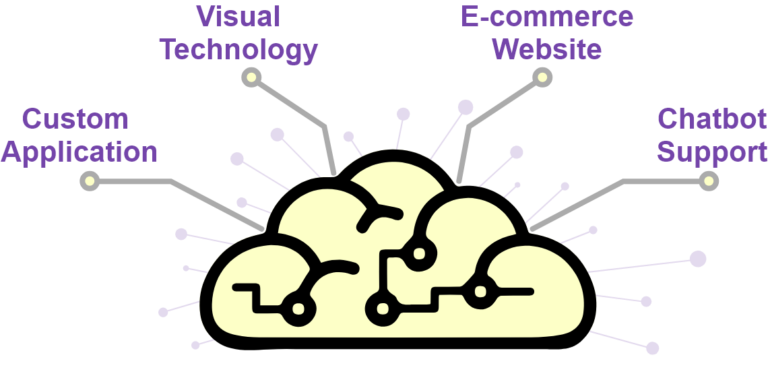 Artificial Intelligent in App Development:
The Artificial Intelligence (AI) industry has boomed in the recent times. Machine Learning and Artificial Intelligence are gaining impetus in almost every aspect of businesses today. From automatic customer support system to advanced Chatbots to highly customized business-centric AI solutions being utilized towards automating and improving sales operations, AI application has been redefining the way businesses operate. At Planet Web Solutions, we leverage high-end AI application development process to ensure the fullest advantage to our clients through cutting-edge AI development services & solutions.
We are a leading company and have been helping businesses across diverse industry verticals towards building highly intelligent AI-powered digital applications and products. Our advanced range of the best-in-class AI application development services helps businesses gain a level of accuracy and customer satisfaction along with advanced AI capabilities. You can harness the given AI capability towards building highly scalable, robust, and cost-effectiveness digital solutions and products to help businesses minimize labor and the overall infrastructure cost to a greater extent. Our team of highly qualified and experienced AI application developers helps in designing & developing AI-powered mobile as well as web applications, AI-powered specifications, highly intelligent & integrated AI enterprise solutions.
Custom AI Application
Design and develop highly customized, user-friendly AI application for your business using our custom AI application development.
AI Application Development
Leverage experience of our developers to create AI web applications that suits your business needs and are user-friendly.
Customized E-commerce Website
With the help of Artificial Intelligence you can customize your e-commerce website. AI identifies customer purchase befavior which can help in perfect decision making.
Chatbot Support Service
We creates and develops AI-powered chatbots which can easily understand and interpret user behavior and provides extensive support.
Natural Language Processing
We're experts in Natural Language Processing development that enables machine to understand and comprehend what people speak and write, interpret the context and sentiments and take relevant actions.
AI Visual Technology
We create and develop AI supported high-tech visual applications which have the ability to acquire, analyze, and synthesize images and identify patterns in them.